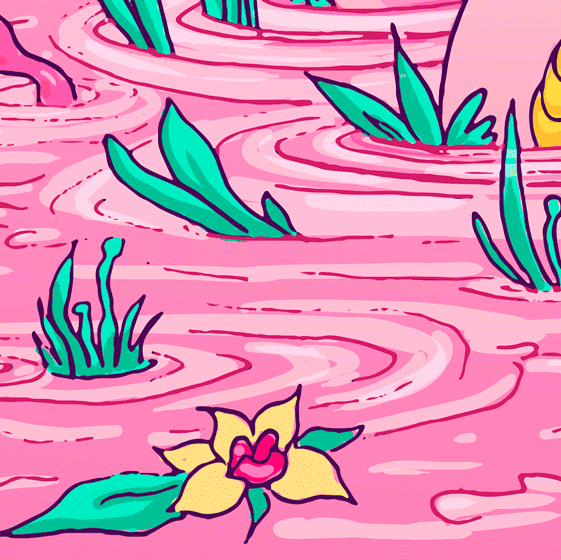 Hari Alluri is the author of The Flayed City (Kaya) and Writer-in-Residence for The Capilano Review. A winner of the 2020 Leonard A. Slade, Jr. Poetry Fellowship for Poets of Color and a co-founding editor at Locked Horn Press, he has received fellowships from Las Dos Brujas and Port Townsend writers conferences, and grants from the BC Arts Council, Canada Council for the Arts, and National Film Board of Canada. In addition to Split This Rock, his work appears in 1508, AALR, Apogee, filling Station, Poetry Magazine, and elsewhere. Recently he co-edited We Were Not Alone: A Community Building Art Works Anthology. You can find his latest contributions, here, and his twitter and instagram @harialluri.
Emily Altman is an illustrator from rural Missouri. She received her BFA in Illustration from the University of Central Missouri in 2012 and her MFA in illustration with distinction from the Edinburgh College of Art in 2020. Working primarily figuratively, her work ranges from fine art explorations of texture and light, to detailed storybook illustrations, to autobiographical and fictional comics. She's been shortlisted in the 2019 House of Illustration and Folio Society Book Illustration Competition, participated in the Royal Drawing School's Residency at Dumfries House, and has been featured in a variety of publications. She is currently working on her first graphic novel. More work can be found on her Instagram @altman_ill or her website https://altmanillustration.com/.
Born to Pakistani-American artists, Jai Hamid Bashir has been published by POETRY, The American Poetry Review, Asian American Writer's Workshop, Black Warrior Review, The Adroit Journal, Guernica Magazine, and others. A recent graduate of Columbia University, Jai writes in Salt Lake City, Utah.
Samiya Bashir, called a "dynamic, shape-shifting machine of perpetual motion," by Diego Báez, writing for Booklist, is a poet, writer, librettist, performer, and multi-media poetry maker whose work, both solo and collaborative, has been widely published, performed, installed, printed, screened, experienced, and Oxford comma'd from Berlin to Düsseldorf, Amsterdam to Accra, Florence to Rome and across the United States. Sometimes she makes poems of dirt. Sometimes zeros and ones. Sometimes variously rendered text. Sometimes light. Bashir is the author of three poetry collections, most recently Field Theories, winner of the 2018 Oregon Book Award's Stafford/Hall Award for Poetry. @scryptkeeper on all of the socials — youtube: samiyabashir and www.samiyabashir.com
K.B. Carle lives and writes outside of Philadelphia, Pennsylvania. Her stories have appeared in HAD magazine, Good River Review, Bending Genres, Waxwing magazine, and have been nominated for Best of the Net, Best Small Fictions, and the Pushcart Prize. She can be found online at http://kbcarle.com or on Twitter @kbcarle.
Nalini 'Deedee' Cheriel is a visual artist who started out creating record covers and T-shirts for the Oregon music scene in the early '90s. Born in the hippie town of Eugene, Oregon, she began her own band and record label at the age of 19. Influenced by the popular DIY culture of that time, she played in several all-girl bands (Juned, Adickdid, The Teenangels, The Hindi Guns) and co-created the semi-autobiographical film Down and Out with the Dolls. This artist has lived and studied abroad: Honduras, Chile, England, Portugal, Spain, and her native India. Now residing in Los Angeles, Cheriel's work explores narratives that recognize the urgency and conflict in our continuing attempts to connect to the world. With influences derived from such opposites as East Indian temple imagery, punk rock, and her Pacific Northwest natural environment, her images are indications of how we try to connect ourselves to others and how these satirical and heroic efforts are episodes of compassion and discomfort. Bold elements drawn from landscapes—both urban and natural—and pop culture suggest the ability to find commonalities and relationships between ourselves and our surroundings that inevitably confirm our greater humanity and quest towards love. Her work has been featured in films and TV such as The Secret Life of Walter Mitty, Grey's Anatomy, and Barry as well as featured on book covers and magazines.
K-Ming Chang is a Kundiman fellow, a Lambda Literary Award finalist, and a National Book Foundation 5 Under 35 honoree. She is the author of Bestiary (One World/Random House, 2020). In 2021, her chapbook Bone House was published by Bull City Press. Her short story collection, Gods of Want, is forthcoming from One World in July 2022.
Franny Choi is the author of Soft Science (Alice James Books), Floating, Brilliant, Gone (Write Bloody Publishing), and two forthcoming projects from Ecco Books, including an essay collection on race, feminism, and robots. The Founder of Brew & Forge, she lives and teaches in Western Massachusetts. Find her at: www.frannychoi.com and www.brewandforge.com
Kai Coggin (she/her) is the author of four poetry collections, most recently Mining for Stardust (FlowerSong Press 2021) and INCANDESCENT (Sibling Rivalry Press 2019). She is a queer woman of color who thinks Black Lives Matter, a teaching artist in poetry with the Arkansas Arts Council and Arkansas Learning Through the Arts, and host of the longest-running consecutive weekly open mic series in the country—Wednesday Night Poetry. Recently awarded the 2021 Governor's Arts Award and named "Best Poet in Arkansas" by the Arkansas Times, her fierce and powerful poetry has been nominated four times for The Pushcart Prize, as well as Bettering American Poetry 2015, and Best of the Net 2016, 2018, and 2021. Her poems have appeared or are forthcoming in POETRY, Cultural Weekly, SOLSTICE, Bellevue Literary Review, TAB, Entropy, SWWIM, Split This Rock, Sinister Wisdom, Lavender Review, Tupelo Press, West Trestle Review, and elsewhere. Coggin is Associate Editor at The Rise Up Review. She lives with her wife and their two adorable dogs in the valley of a small mountain in Hot Springs National Park, Arkansas.
Darren Donate is a first-generation Mexican-American and visual poet. He previously obtained his MFA at the University of New Mexico. Darren is currently teaching high school and coaching wrestling in Tucson, Arizona. His work has been most recently featured in DIALOGIST and is forthcoming in Berkeley Poetry Review.
Shangyang Fang grew up in Chengdu, China, and writes both in English and Chinese. A Wallace Stegner fellow at Stanford University, his works have appeared in The Nation, New England Review, Ploughshares, The Yale Review, and anthologized in Forward Book of Poetry Anthology 2020 and The Best American Poetry 2022. He is the author of the poetry collection Burying the Mountain (Copper Canyon Press, 2021).
S. Ferdowsi is a multi-genre writer based in the Midwest. She is a frequent collaborator with the live-lit storytelling series at 2nd Story and her written work has been published in The Rumpus, Newcity, and Gordon Square Review. If you're interested in getting in touch, please email her at sadaf.ferdowsi@gmail.com.
Alexis Aceves Garcia opens portals into ease through their work as a writer, co-curator of already felt: poems in revolt & bounty alongside danilo machado and Devyn Mañibo, and managing editor at Deem Journal. They are currently the caretaker of a heart-shaped hummingbird feeder in their abuela's backyard and an MFA in writing candidate at the University of California San Diego. You can find their poems in The Hennepin Review, Apogee Journal, Peach Mag, and The BreakBeat Poets Volume 4: LatiNext. And follow them on Instagram and Twitter @loveloaf_.
Destiny Hemphill (she/her) is a ritual worker and poet living with chronic pain in Durham, NC. A recipient of fellowships from Naropa University's Summer Writing Program, Callaloo, Tin House, and Kenyon Review's Writers Workshop, she is the author of the poetry chapbook Oracle: a Cosmology (Honeysuckle Press, 2018). Her collection, motherworld: a devotional for the alter-life, is forthcoming from Ugly Duckling Presse in 2023.
Noor Hindi (she/her/hers) is a Palestinian-American poet and reporter. She is a 2021 Ruth Lilly and Dorothy Sargent Rosenberg Fellow. Follow her on Twitter @MyNrhindi.
Eddie Kim received his MFA in Poetry from the University of Alaska Fairbanks. He is a Kundiman fellow from Seattle. His poems have appeared in Poetry Northwest, The Margins, The Collagist (now The Rupture), Pinwheel, Lantern Review, South Dakota Review, and others. His poem, "Telephone of the Wind," was featured on Tracy K. Smith's iteration of the podcast, The Slowdown.
Sarah Lao is a Chinese American writer from Atlanta, Georgia. Her poetry can be found or is forthcoming in AGNI, Narrative, Black Warrior Review, and the Georgia Review, among others. She is currently studying at Harvard College, and she can be found on Twitter @sarahclao.
Claire Luchette is the author of the novel Agatha of Little Neon.
Paul Negri is the editor of a dozen literary anthologies from Dover Publications, Inc. He has twice been awarded the gold medal for fiction in the William Faulkner – William Wisdom Writing Competition. His work has appeared in more than fifty print and online publications, including The Penn Review, Flash Fiction Magazine, Lumiere Review, The Cabinet of Heed, and Into the Void. He lives in Clemmons, North Carolina.
Kanyinsola Olorunnisola is an experimental poet, essayist, and writer of fiction. His work is focused on black identities, the diverse ways his people navigate the world. He has been published in Al Jazeera, FIYAH, Popula, Jalada, Overland, Bakwa, Harvard University's Transition and elsewhere. He is the recipient of the 2017 Fisayo Soyombo National Essay Prize, the 2020 Speculative Literary Foundation's Diverse Writers Grant, the 2020 K&L Prize for African Literature, and a Truman Capote Literary Trust Scholarship. He was a finalist for the 2020-2021 Glass Chapbook Series Contest and the 2019 Koffi Addo Prize for Creative Non-Fiction. He was nominated for the 2021 Pushcart Prize and the 2022 AWP Intro Journals Awards in two categories: Poetry and Non-Fiction. He earned an Honorable Mention for the 2020 L. Ron Hubbard Writers of the Future Contest and was longlisted for the 2019 Short Story Day Africa Prize, 2020 Toyin Falola Prize and 2021 Gerald Kraak Award. He is currently working on a poetry full-length and a fantasy novel set in colonial Africa. He is an MFA candidate at the University of Alabama.
Gaia Rajan's work has been published in the Kenyon Review, Split Lip Magazine, diode, Muzzle Magazine, Palette Poetry, and elsewhere. She is the co-founder of the WOC Speak Reading Series, the Junior Journal Editor for Half Mystic, and the Web Manager for Honey Literary. Her debut chapbook, Moth Funerals, was published in 2020 by Glass Poetry Press, and her second chapbook, Killing It, is forthcoming from Black Lawrence Press. She is seventeen years old. You can find her online at gaiarajanwrites.com, or at @gaia_writes on Twitter.
Legacy Russell is an American curator and writer. She is Executive Director & Chief Curator at The Kitchen in New York. Her first book is Glitch Feminism (2020); her second book, BLACK MEME, is forthcoming via Verso Books.
SJ Sindu is a Tamil diaspora author of two literary novels, two hybrid chapbooks, and two forthcoming graphic novels. Her first novel, Marriage of a Thousand Lies, won the Publishing Triangle Edmund White Award and her second novel, Blue-Skinned Gods, was published in November 2021. A 2013 Lambda Literary Fellow, Sindu holds a PhD in English and Creative Writing from Florida State University. Sindu teaches at the University of Toronto Scarborough. Sindu's newest work, a hybrid chapbook titled Dominant Genes, will be published by Black Lawrence Press in February 2022. More at sjsindu.com or @sjsindu on Twitter/Instagram.
Jaz Sufi (she/hers) is a mixed race Iranian-American poet and arts educator. Her work has been published or is upcoming in AGNI, PANK, Birdfeast, The Rumpus, and elsewhere. She is a Kundiman fellow and National Poetry Slam finalist, winner of the 2020 Yellowwood Poetry Prize, and is currently an MFA candidate and Goldwater fellow at New York University.
Yuko Taniguchi is the author of a volume of poetry, Foreign Wife Elegy (2004), and a novel, The Ocean in the Closet(2007), both published by Coffee House Press. Her awards include the Dayton Literary Peace Prize, the Kiriyama Prize Notable Book, the Gustavus Myers Center Outstanding Book Award Advancing Human Rights, and the McKnight Artist Fellowship. Her poems, stories, and essays have appeared in Sycamore Review, The Examined Life, Cider Review Press, and Touchstone Literary Magazine. She is an assistant professor of Medicine and Arts at the Center for Learning Innovation at the University of Minnesota Rochester. She also provides creative writing and art classes in psychiatric units. Taniguchi regularly collaborates with artists and healthcare professionals to explore how creative activities lead to self-discovery and healing. Find her at, https://yukotaniguchi.net/.
Caroline Zhang is a 19-year-old artist from North Carolina and currently works in Rhode Island. Her work can be found at caroline-zhang.com.
Marta Zubieta is a Spanish artist living in Bristol, UK. Zubieta's art explores popular culture through retro and tropical references, alternative universes, and lots of characters. With them, she describes the myths and clichés of the generation Z and Millennials, the feelings and anxieties of her generation, stories of love, dreams, and technological addiction in a pastel and neon universe. Specialized in illustration, graphic design, and murals, she inspires herself from 90s cartoons, sci-fi, pop-surrealist art, and Latin folklore to create her adult illustrations for forever teenagers. Find her at: www.martazubieta.com